Wharf Street Wetlands should not be a bus route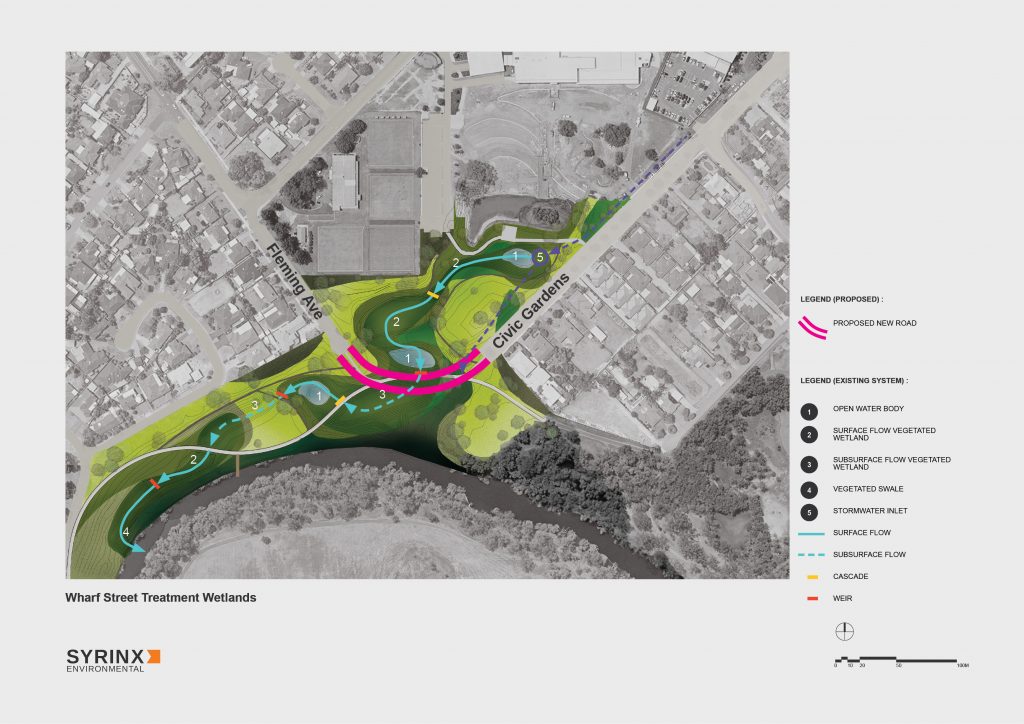 Syrinx Environmental recently learnt of a proposal to construct a road through the wetland system at Wharf Street. If built, the proposed road will cut right through the site's subsurface flow wetland, which will have an adverse effect on the numerous environmental and community benefits the project has been delivering since 2008.
The site – in its current configuration – has been successfully treating stormwater and reducing pollutant loads from the Wharf Street Drain to improve the health of Canning River. Monitoring since 2009 indicates that the wetland is removing around 65% nitrogen and 45% phosphorous as well as metals. These successes are documented in this Performance Assessment 2009-14 Summary Report, put together by the Department of Parks and Wildlife.
How does the site treat stormwater?
As illustrated in the diagram at the top of this article, the site treats stormwater via a connected system of open water bodies, surface and subsurface flow wetlands and vegetated swales. The flow path – which is approximately 600m in length – allows for the filtering out of nutrients and other pollutants to improve the water quality prior to its entry into the Canning River.
What are the consequences of the proposed road?
The proposed works will diminish habitat values, disrupt the wetland and may reduce its effectiveness in stormwater improvement. In addition, the proposed road will bring 214 buses a day (more than 78,000 per year) within approximately 50m from the river foreshore, an environmentally sensitive and fragile environment.
The site is currently an active recreation zone; it's a popular parkland for local residents for birdwatching, cycling, jogging and dog walking. The proposed road will interrupt key recreation routes that traverse the site.
In an age of thinking about sustainable futures, is this really something the council should be proposing?
Want more information?
More information about the proposal and local residents' reaction to it can be accessed here.
For more information about the project, visit Wharf Street's project page on the Syrinx website.
A video, put together by the Department of Parks and Wildlife, SERCUL, Swan Canning Riverpark and the City of Canning, as part of the project's winning entry in the 2015 Stormwater Western Australia Awards for Excellent and Innovation, can be viewed here.
Want to do something about it?
Get in touch with The City of Canning prior to Tuesday 14 November to have your say.