Current Job Available – Civil Design Engineer – WA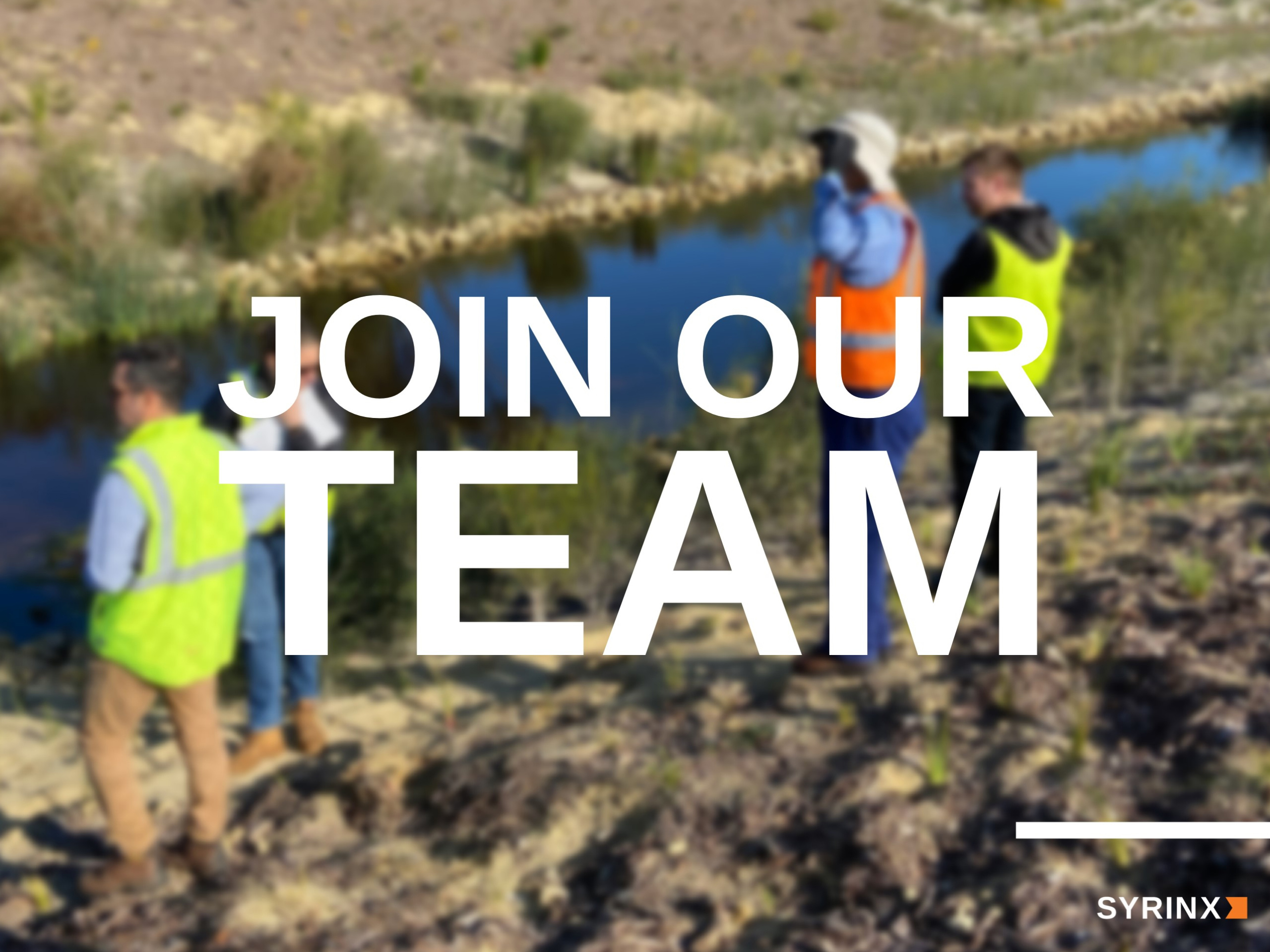 ABOUT SYRINX
Syrinx is a high-end multidisciplinary company, integrating science, engineering and design disciplines to deliver a diversity of projects in urban, rural and industrial settings. With offices in both Perth and Launceston, Syrinx is at the forefront of sustainability, restoration ecology and green infrastructure design nationally. We operate from a basis of integration, environmental ethics and project excellence with a client base derived from both the public and private sectors.
We are currently growing our Perth office and are looking to appoint a motivated and exceptional individual to join our team in the role of Civil Design Engineer. The ideal candidate will have a passion for delivering high quality work and an interest in growth and long-term outlook within the company.
We are an equal opportunity employer and value diversity.
ABOUT THE ROLE
This is a FT technical position in which you will be responsible for civil design and documentation to support the ongoing workload within our integrated multi-disciplinary team on a range of exciting water related projects. In this role you will be required to undertake conceptual to detailed designs and specifications and construction documentation and be familiar with Australian and water authority standards. You will be working with a small team of engineers within a larger multidisciplinary design team. You will be encouraged and supported in identifying and pursuing new project and client liaison opportunities.
The role requires a significant amount of independence and ability to work with the wider national team to deliver a diversity of projects (mainly stormwater, wastewater, coastal, riverine related) and undertake project management tasks
ABOUT YOU
You are passionate about technical work, organised, self-motivated and flexible with excellent communication skills and comfortable working in a small team.
You must have the legal right to work in Australia.
REQUIRED QUALIFICATIONS 
Tertiary Engineering Qualification – Civil as a minimum with Civil + Environmental viewed highly.
CPEng (or be working towards).
SKILLS AND EXPERIENCE REQUIRED
3+ years' demonstrated experience with civil design and environmental engineering projects including: planning and design of civil infrastructure; stormwater infrastructure assets, services/utilities, earthworks, etc.
Strong grasp of relevant design standards and practices for civil infrastructure design.
Proven ability to develop and design civil drawings and specifications of civil elements, including 3-D earthworks models, optimising and calculating cut:fill, civil arrangements, and integration of structures.
Civil3D, AutoCad and skills are essential.
Understanding of water utilities and local government regulatory frameworks and statutory compliance requirements.
Ability to manage multiple projects and goals at the same time, whilst working autonomously.
Technical and non-technical report writing.
Pricing and writing proposals (including tenders) will be viewed highly.
WHAT WE OFFER
Competitive salary to match your experience.
Flexible working arrangements where possible (e.g. remote working, etc.).
The opportunity to lead and complete your own projects, from proposal through to final client delivery.
Ongoing development and training as your role and experience develops.
If you are interested in the position, please email your cover letter and resume to info@syrinx.net.au.